DKOldies is not your typical online store.
DKOldies is a retro video game online store located in Morgantown, Pennsylvania specializing in original Nintendo NES, SNES, N64 and more original game systems and accessories from the 80's and 90's. How are we different?
We are a family that wants to keep retro gaming alive by only having the very best. By making sure everyone is welcome, no matter how much gaming knowledge you have and and making sure everyone can enjoy retro games. Our diverse team here is made up of the smartest most honest people you can find. Military vets, retro gaming nuts, hard working young people, all teaming up alongside some working mom's and dads with the goal of making DKOldies a place of quality, honesty, and integrity that you would want in a retro video game store.
No fakes, reproductions, or modded products are allowed here.
There are so many fakes out there right now they're getting trickier and trickier today to spot. Like our memories, we want our old games to be authentic, genuine and 100% original. We have many checks in place, but our last line of defense is DKOldies' main retro technician.
Dustin is a military veteran who takes retro quality and integrity to the highest level. He is an expert on the inside and outside of every game and console ever made. He is in charge of the refurbishing process and quality control of every item here at DKOldies. Our old games look and work like new because we won't sell them if they don't.
Customer Service Like You Wish it Could Be
Need help figuring out what game goes with what system? How to hook up your console to your HDTV? Or just want to talk to some really nice people who work at a retro game store? You can contact us anyway you want for anything. Call, email or message us and you will most likely talk to Rob our customer service specialist. Rob loves people and loves to talk with you. He loves to talk to the Fedex person, the mail carrier, the kid at the drive thru, the lady who walks her dog past our office and anyone else he comes in contact with. You can also call and ask to speak to anyone including Drew the owner.
We treat you like a human being and understand that buying online can be difficult. We try to solve your problems before you have them and if a problem does arrive, we will do anything to solve it, so it never happens again for you and anyone else.
How DKOldies Started
I've been playing games since before I can remember. I loved video games, arcade games and would think about them non-stop. The worlds were so vast and the video game world seemed like an underground rebellion. When I was 13 my dad told me that I was going to have to work since I would never be going to college. My grades were poor and school seemed like a prison to me. At 13 years old I left my childhood behind and got a job washing dishes, then pushing carts at the grocery store and then I started working at an Arcade. I loved the old machines! The arcade I worked at was only in business a short time because video games as we know them today took over.
I then got my 4th job at the age of 15 at a local comic book/baseball card store. I loved it and worked there over the next 6 years learning how to run a retail store, learning what customers wanted and how they wanted to be treated. I loved old collectables and understood why they were so important to everyone. Our store was really amazing, it had old sealed packs from the 70's, every old comic book you could think of and it had a real family atmosphere that made everyone feel welcome.
The owner of that store sold the business in the late 90's to Electronic Boutique and it went out of business a few years later. I learned how different a family owned business operates compared to a corporate run company and that like school the corporate world was not for me.
In the early 2000's I bought some old NES games online. It felt like I was buying an old comic book to complete my collection. I immediately started buying and selling old games and took everything that I learned from when I worked as kid. I started up a warehouse in my basement. Hired my retired father to help me because it was getting so big.
DKOldies grew over the last 14+ years through our website by appealing to not only the hard core video gamer, but also the rest of us who just want to go back to experience and share their favorite times when they were a kid. We took time out to hear what you the customer liked about us and didn't like and made improvements very quickly. I care about you, your family and the games you get and play. I live for your positive reviews and hearing that your experience here was better than anywhere else. I understand that life is hard sometimes and that buying video games online should be easy.

My goal is to have an online store that feels like an old collectible shop that I used to work in when I was a kid. A place where you can find everything, feel safe and welcomed doing your thing. I love collecting and playing old games and want you to love it too!
Meet The Team!
I could not have started DKOldies without the help of my wife Kate and my kids Grace, Bailey, and Reese. All have all helped out at the office and have been learning more and more about what we do here.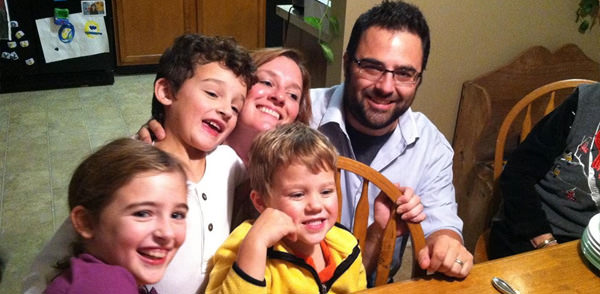 Drew, Kate, Grace, Bailey, and Reese
As the business grew, I moved from my upstairs bedroom, to my basement, to our 2000 sq ft office/warehoue in Honey Brook, and now to our 7000+ sq ft warehouse in Morgantown, PA. This transition could not have happened without our Operations Manager, Scott. Scott and I have been friends since he moved on my street when I was in 3rd grade. We have been friends ever since and he runs the day to day operations here.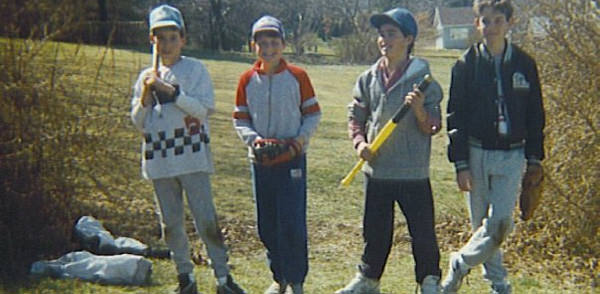 Scott (DKOldies Manager far left) & Drew (Owner 2nd from right) with the neighbor kids in the 1980's.
As DKOldies.com started getting popular we needed to find some young talent out there to help take care of all the work that needs to be done in an online retro game shop. There is a lot of work to do, like repairing, cleaning, shipping, phone calls, emails, and loads of other things. Our Shipping & Service Manager is Rob and you have probably talked to him on the phone if you have ever called. Ash is our SYG Associate and is quickly taking on more and more. Dustin is our main tech associate and then we have our ever growing Shipping Department.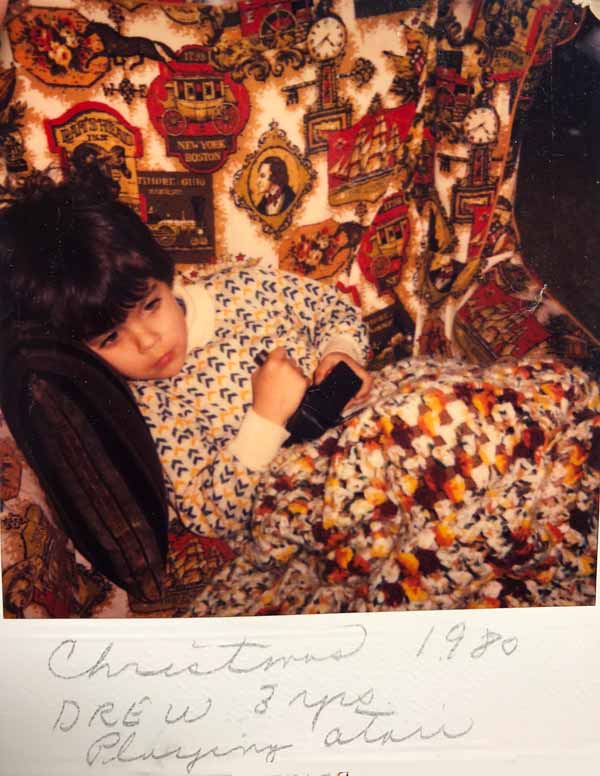 That's 3 year old me rocking the Atari 2600 in 1980! -Drew

Team Profiles


Drew
Job Role: Owner / Buyer
Favorite Retro Game: Archon - NES

Facebook: https://www.facebook.com/DrewSteimel
Scott
Job Role: COO
Favorite Retro Game: Super Spike V'Ball - NES
Kate
Job Role: Accountant/Advisor/Counselor
Favorite Retro Game: Kaboom! - Atari 2600
Rob
Job Role: Shipping/Service Manager

Favorite Game System:

Sega Genesis
Ash
Job Role: Sell Your Games Buyer
Favorite Retro Game: Turtles IV
Dustin
Job Role: Retro Technician
Favorite Retro Game: Fighting Force
Joey
Job Role: Social Media and Time Traveler
Favorite Retro Game: Little Nemo: The Dream Master
DKOldies.com
2846 Main St #5A
Morgantown PA 19543
Mon-Fri, 8:00am-4:00pm ET
610-901-3704